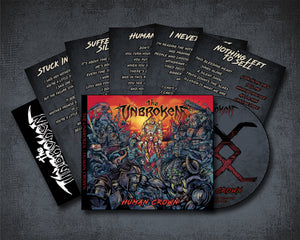 🔥Human Crown EP🔥
- "Human Crown" EP - Limited Edition Cd
👊Your name on the inside cover + Signed by all members 🤘
- 5 Lyric Postcards for each song on the EP
- Band Sticker

$9.99
Shop
Check out below The Unbroken performing at CBS NFL Today Show.Make sure to catch us live in Brooklyn at The Meadows this Saturday October 21st at 6:30pm. Click for tickets __________________________________________________________________The...
They're breaking boundaries! A Brooklyn band is breathing fresh air into the heavy metal genre, combining a Metallica-inspired sound with high-tech post-production. The Unbroken uses down-tuned instruments and slick technology to create...
Grinding guitars assault us at the start of "Stuck in Your Way" and don't stop thrashing us through the deluge of distortion that forms "Suffering in Silence," "I Never Forget,"...
Band
Formed in the high powered Brooklyn metal scene, The Unbroken are rising out of the murk and taking the world by storm.
A band dedicated to punk rock ethics and a vicious modern metal sound that goes for the throat they develop on the work of their influences, bands like Metallica, Pantera and Slipknot in order to cultivate something greater.

2019 May The Unbroken released their debut EP "Human Crown" co-produced by John Bender (Breaking Benjamin), mixed by Johan Meyer (Gojira) and mastered by Alan Douches (High On Fire, Mastodon). The band will be playing countless live shows all around the Northeast and prepare to conquer the nation.

Chester / Lead Vocals, Guitar
Mark / Lead Guitar
Jeff / Bass
Tamas / Drums


---
SUBSCRIBE
Be the first to know about new releases, shows, exclusive discounts and special events.
Enter your City and State or Country to receive show and other notifications in your area.